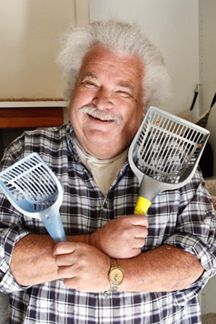 Michael Zarowitz
Acting President
A California native, Michael graduated with degrees in economics, finance, genetics, and a doctorate in molecular biology. During his work as a biomedical research scientist, he acquired several patents. Since moving to the central coast he has been an adjunct faculty member at Cal Poly and is currently a volunteer science teacher at Coast Union High School.

Michael became involved with HART through his partner, Mary Ann Zirretta. Playfully describing himself as a 25-year "on-call grunt," Michael is a long-standing volunteer and creative fundraiser. Along with Carol Jean Attoe, he organized HART's award-winning Pinedorado Parade floats. Michael currently lives in Cambria with his dog Shiloh.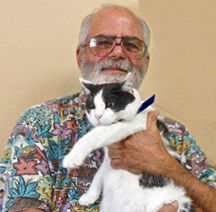 Gary Swauger
Treasurer
Gary grew up in Torrance, CA. After studying architecture at Cal Poly, he moved to Cambria with his wife, Susan, two cats, and a dog. Since then, Gary has designed over 400 homes, motels, restaurants, and other commercial buildings.

Beginning his association with HART at the first shelter location, Gary worked on permit requirements, software development, and updating computer equipment. He helped orchestrate the purchase of HART's current building and was the lead on designing tenant improvements necessary to transform an old single family residence into an animal shelter. As Board treasurer, he continues to pursue and evaluate various approaches that will keep HART on solid financial ground. Currently, Gary and Susan care for Stuart and Snow, two former HART cats and a standard black poodle named Pal.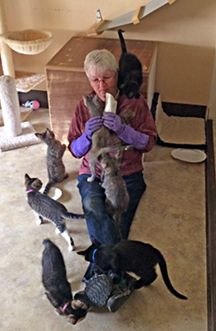 Carol Jean Attoe
Board Member
Born and raised in Wisconsin, Carol Jean has lived most of her adult life in California. She earned bachelor's and master's degrees, taught physical education at Sacramento City College, and volunteered at the Sacramento SPCA. After retiring from teaching, she turned her attention to ceramic arts. For over 30 years, her work has been grounded in the natural world and inspired by animals and nature.

During her years at HART, Carol Jean has been a cleaner, transporter, and events volunteer, while her Love Paws fundraisers have enhanced the shelter's coffers. Her precious cats, Shadow and Silver, are HART alumni. Of her commitment to HART, Carol Jean says, "It is my hope that we can raise awareness of the animal/human bond and bring love and peace to all livings things."
Dr. Penny Fiser, DVM
Board Member