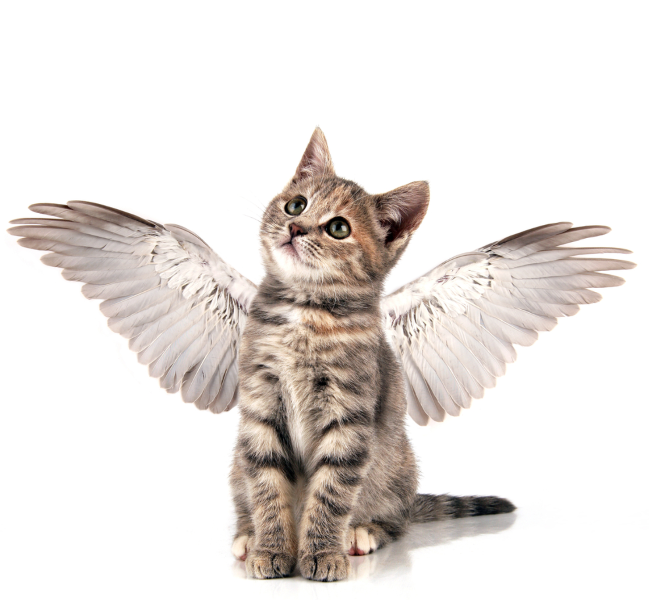 HART'S GUARDIAN ANGELS
HART regularly rescues neglected, injured, or seriously ill cats and kittens. While the shelter's general fund finances intake exams and typical medical necessities, that fund cannot also afford to cover extraordinary and expensive medical interventions.

That's where the Guardian Angel (GA) program steps in. GA was formed by volunteers and supporters in 2012 to secure the funds for non-routine, costly medical treatments for HART's felines. The GA program saves lives, ensures that cats and kittens are healthy and pain free, and improves their chances of finding good homes. As a restricted fund, GA proceeds are designated exclusively for special medical expenses.

HART is a no-kill shelter committed to rescuing and caring for homeless animals in need. We will never turn away an animal because of sickness or age. Your support, no matter how small, has a significant impact. GA funds save lives - together, we can make a difference!

Click on the DONATE button below to make a donation to HART's Guardian Angel fund. We accept most payment methods including Direct Debit (ACH), all credit cards, PayPal, ApplePay and GooglePay. HART is an IRS-registered 501(c)(3) non-profit organization and donations are eligible to be tax deductible.
Homeless Animal Rescue Team's
Very Special Cats
Read below to learn more about some of the cats in our Guardian Angel program and what makes HART so special. We believe all cats deserve love and care regardless of age, temperament, illness or special needs.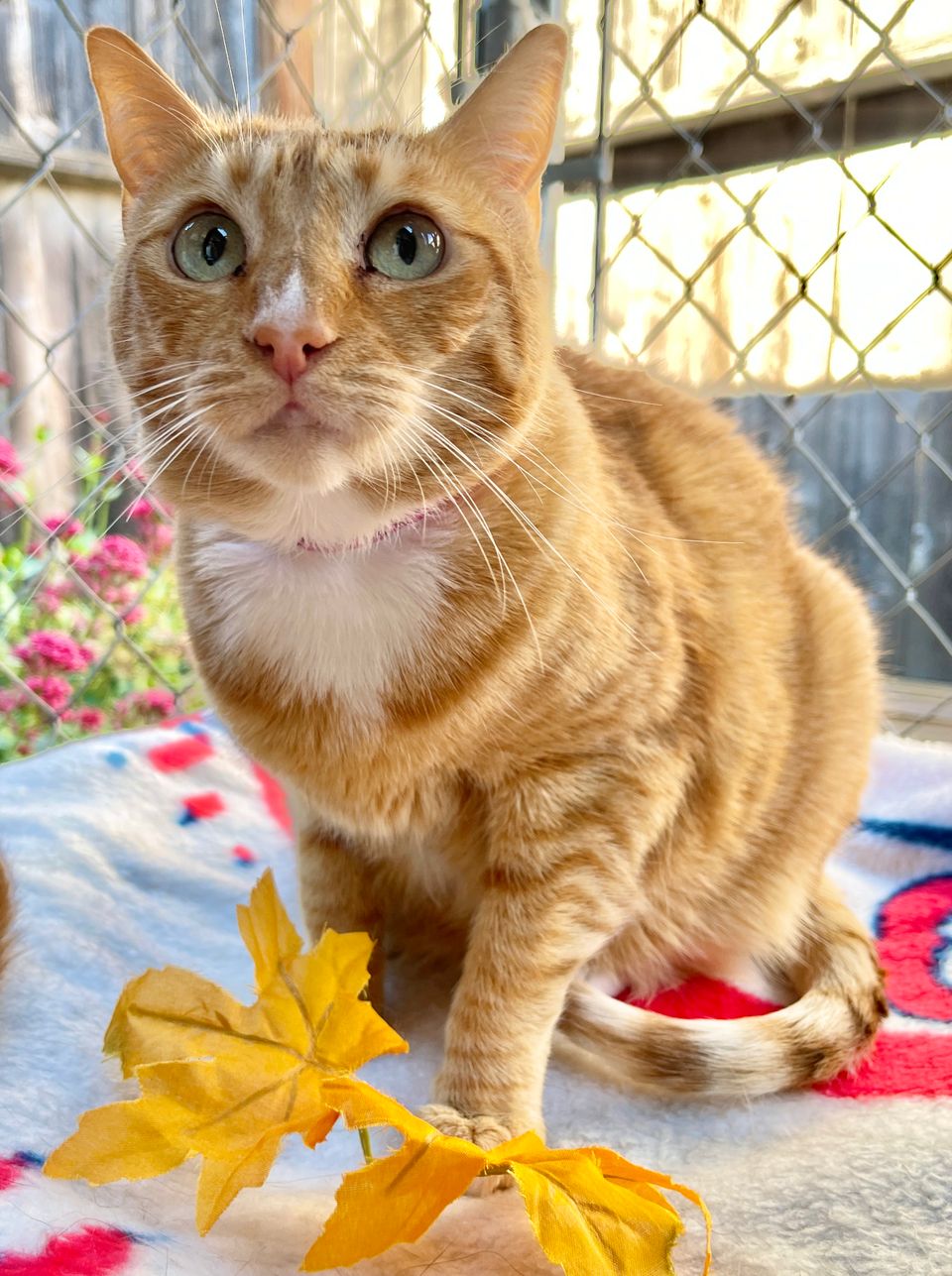 Lavender
Lavender Harmony is getting help she needs – thanks to HART.  Lavender, and her best friend and brother, Lupine, were adopted from HART as kittens.  Unfortunately, their family was unable to keep them, and drove them all the way back to HART from Wisconsin, because they knew they would be loved and well-cared for until they found new homes.  Lavender and Lupine are deeply bonded.  HART prioritizes the emotional well-being of the cats in our care, and so will keep them with us until the perfect adopter is found – a family who wants them both.  Bonded cats tend to wait much longer in shelters, and cost the shelter more for their care, but HART will gladly pay the costs of ensuring the best outcome for them.
Sadly, Lavender Harmony was recently diagnosed with Glandular Lymphoma.  Fortunately, because it surfaced on her chin, we were able to spot it early and get her seen by a Veterinary Oncologist. Lavender was lucky she was at HART when her cancer was found, because funds YOU donated to last year's Guardian Angel Fund Giving Tuesday Campaign are paying for her expensive cancer treatment.  Her outlook is hopeful, and we are waiting to see how well she responds to chemo.  Already her lump is shrinking, and hopefully Lavender and Lupine will soon be on their way to a fur-ever home together.
Please consider donating to our Guardian Angel fund so that we can help more cats in need, like Lavender and her brother Lupine.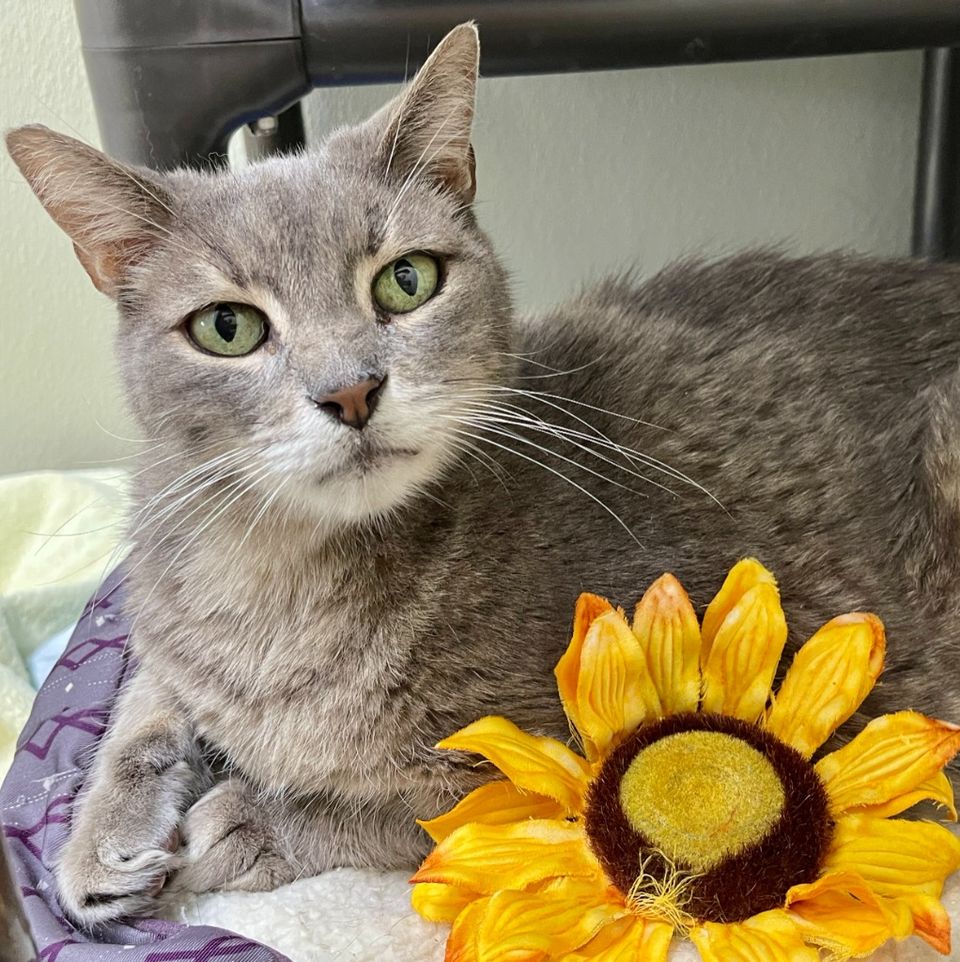 PJ
PJ is a strikingly handsome 17-year-old Gray Tabby Manx who came to HART with his adopted siblings, Catherine and Harriet, when their purr-son needed to move to a care facility.  His stunning green eyes are so endearing, you can't help but stop and give him some love.

He is deeply bonded with Catherine and Harriet, who he has been with for most of his life.  PJ is very loving, and spends time snuggling and grooming his sisters.  Even at 17, PJ loves to play with wand toys.

As he has aged, PJ has developed issues with emptying his bladder, and needs help with it several times daily.  He takes it all in stride, and is very good with it.  Please don't let that deter you from bringing this wonderful cat into your life, and giving him a well-deserved, loving, fur-ever home.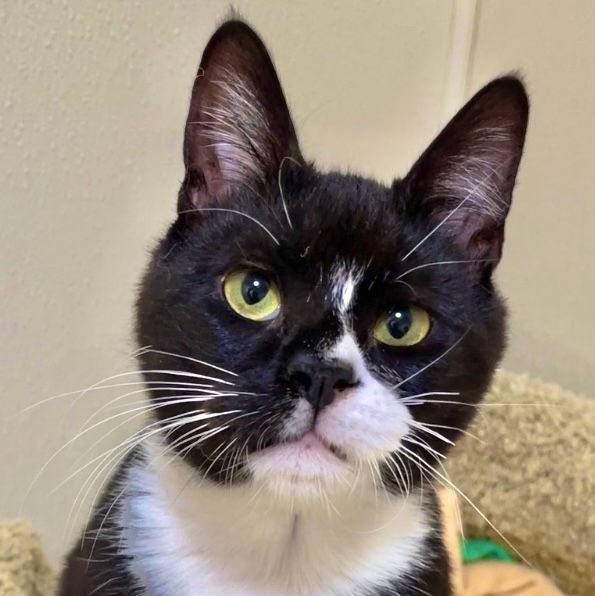 Bobby Sox
Meet Bobby Sox!  Bobby Sox is a pint-sized Mr. Personality who had a rough start in life.  In February of this year, HART was contacted by another rescue and asked to help Bobby Sox after he'd crashed and nearly died on the operating table during an attempt to neuter him.  His owner couldn't afford his care, and the other rescue was unable to help him further.  When Bobby Sox arrived at HART, he was in bad shape - malnourished, uncomfortably constipated, and suffering from severe ringworm.  Even though he was already a year old, he weighed only 3.75 pounds!  We weren't sure he'd survive, but he has shown amazing resilience, and has healed and grown stronger over the past 9 months under HART's loving care. He now is a healthy 9 pounds and waiting for the purr-fect purr-son to bring him home. He is affectionately known as "Uncle Bobby" in HART's kitten room - "supervising" the youngsters, and enjoying the kittenhood he deserved, but due to his illness, never got to enjoy.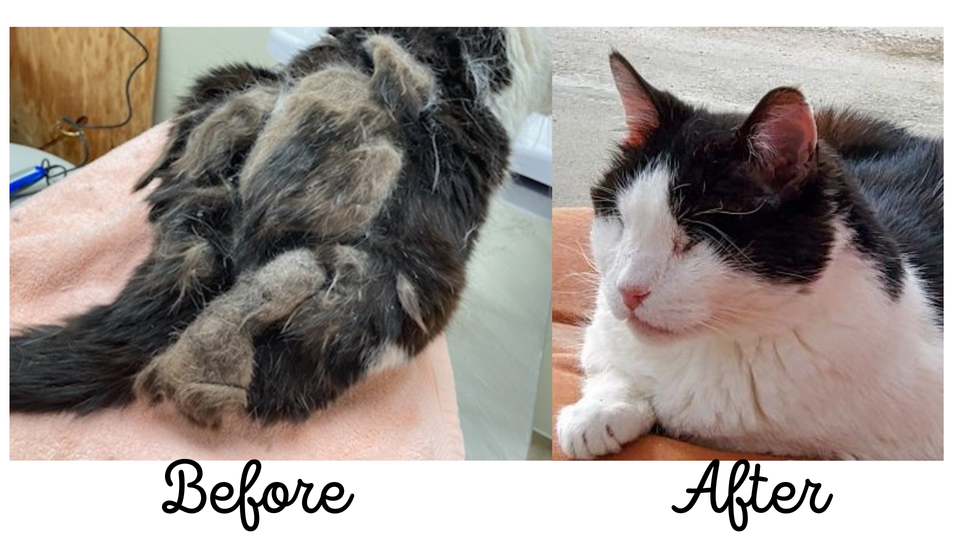 One of the cats who was helped by your GA contributions
is Peety.
Peety came to HART with serious fur matts and obvious problems with his eyes. The mats were removed, and his eyes appeared to be bulging, so he was taken to the vet for an examination. The bulging eyes would be consistent with Glaucoma, but his initial eye pressure was within normal levels. The exam determined that Peety had an inflammation of the inner eye of both eyes, and treatment began. At the same time, HART was referred to a veterinary ophthalmologist in Arroyo Grande, who determined Peety did indeed have Glaucoma, which had been masked by the inflammation.

Peety was found to have no vision in his left eye, and only a perception of light in the right eye. The Glaucoma was advanced and very painful for Peety, so the decision was made to remove both eyes. The surgery was successful, and Peety went back to his foster home to recover. At first, he was confined to a single bedroom, where he quickly learned how to navigate to his litter box, his food bowl, and the waiting laps of his foster parents! Before long, Peety was successfully exploring the entire home, and interacting with the resident cats—including a fellow blind kitty, who became his breakfast buddy!

Peety now has a forever home, as he was adopted by his foster family and now lives happily and pain-free. It was a life-changing journey for Peety, one that ended the pain he'd endured, and allows him to now live the rest of his days in comfort and safety. It also means that we need to work hard to replenish the Guardian Angel Fund, so we can help more cats in the future.
Help our Guardian Angel program meet the needs of cats and kittens all year round by becoming a Guardian Angel member today.

Please download and fill in the Guardian Angel Membership form below. You may also email it to warmhearts@slohart.org or mail it to 2638 Main St., Cambria, Ca 93428.

To help with a one-time donation, please click the donate button. You can contribute by phone, by mail, or in person. When you donate, please specify that your donation goes to Guardian Angel Fund—checks may be made payable to "HART Guardian Angel Fund." At the HART office, we are always happy to answer your questions about the GA program, please call 805-927-7377 with any questions.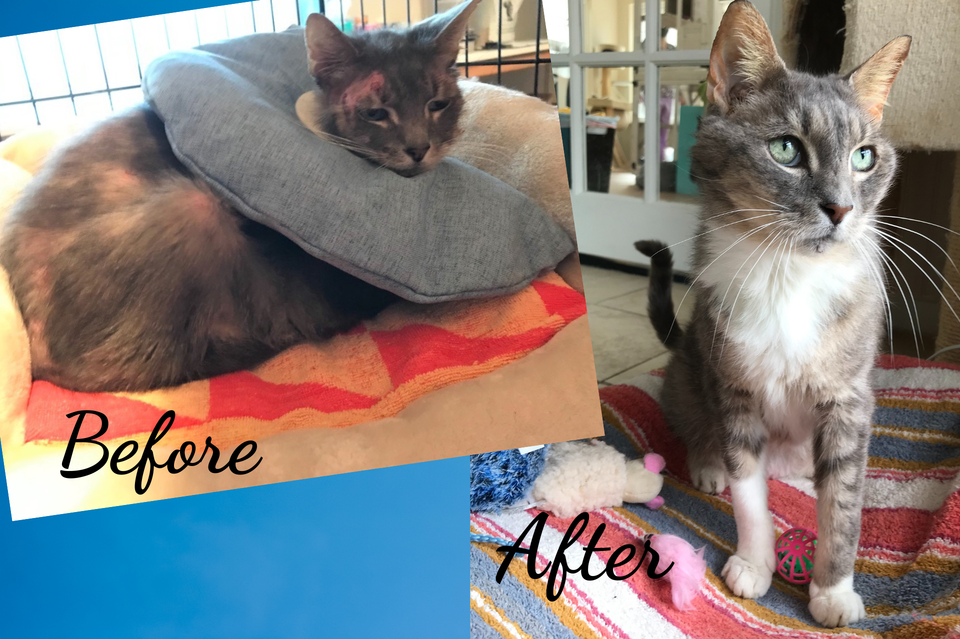 Mr. Kitters
Mr. Kitters suffered from a severe skin infection with hair-loss, scabs & raw skin areas. He needed numerous cultures performed to help find an effective antibiotic, followed by treatment which included steroids and medicated baths.

Even though his illness made him itchy and very uncomfortable, Mr. Kitters was a trooper throughout treatment. With the right medication and a special diet, Mr. Kitters is now in a permanent and loving forever home. This was made possible because of the help provided by GA.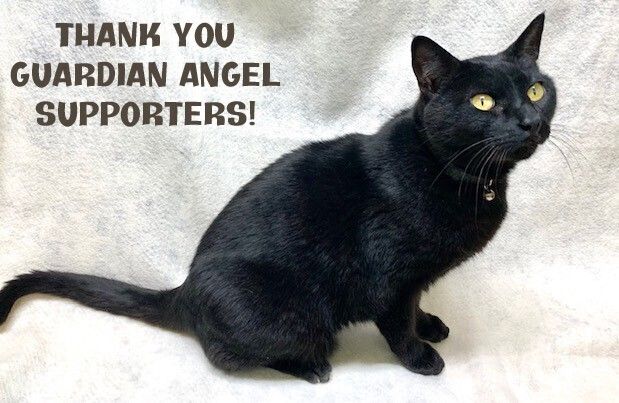 Midnight sends his thanks to all of you who have supported the HART Guardian Angel Program.  The Guardian Angel fund paid for his life-saving surgery that corrected a urinary blockage.

When the HART Guardian Angel (GA) Program learned about Midnight, he had been relinquished to a veterinarian who had been directed to euthanize him, because his family was unable to pay for his surgery.  Your donations to GA saved this very sweet and calm 5 year old boy!  Thank YOU!
GUARDIAN ANGEL CERTIFICATES
For the pet lover in your life, Guardian Angel Certificates are available to give as gifts. Extend a thank-you, or acknowledge a birthday, holiday, or special event with a GA certificate. Many supporters use these certificates to convey their condolences regarding the loss of a loved one or a beloved pet. For twenty dollars or more you can purchase a certificate at HART's Gift Shop for Cat Lovers—or call the shelter to order one.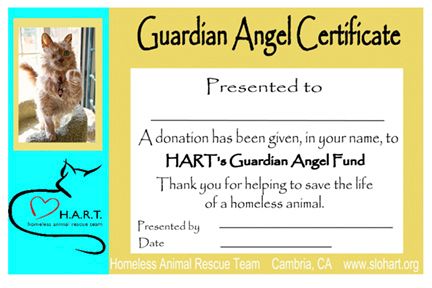 HART Guardian Angel Program