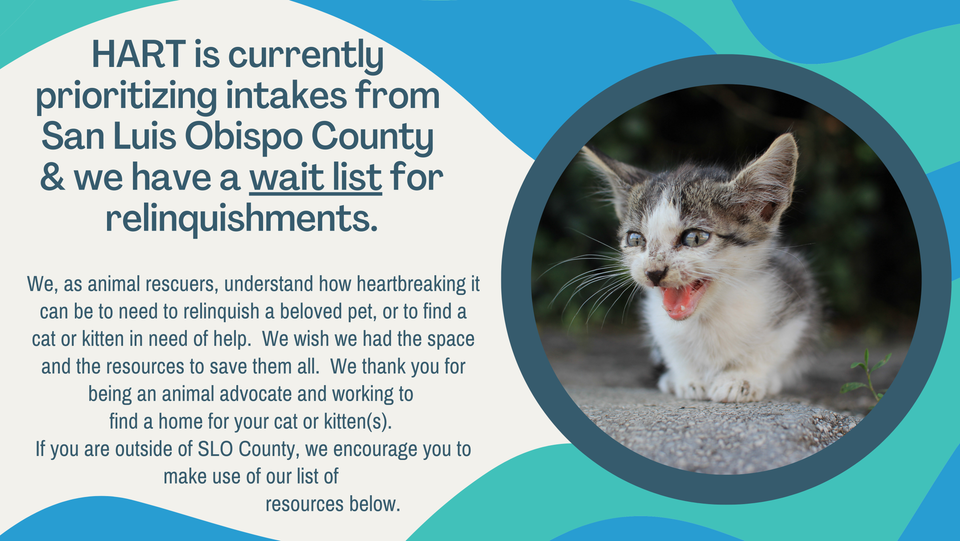 PDF
Additional Rescue Organizations and Shelters
Download our list of additional rescue organizations and shelters throughout San Luis Obispo county and the surrounding areas.

HART is prioritizing cats in SLO County, and currently has a wait-list for new intakes.
Relinquishment Fee
Previous H.A.R.T. Cat/Kitten………………….. $0
All other Cats/Kittens………………………….. $50
Are you in SLO County and looking to surrender a pet, help a stray in need, or TNR a feral feline ? 
We understand life brings unexpected challenges that may force us into difficult decisions.  The Homeless Animal Rescue Team has a mission of rescuing and caring for kittens and cats in need and placing cats and kittens in caring, permanent homes. Thus we will always do our best to help any animal in need of re-homing or rescuing.

We will always take back a former H.A.R.T. cat.  If you find the need to rehome your HART cat or kitten, we ask that you bring him or her back to our shelter unless you have a safe and stable home to place your cat into with someone you trust. If you previously adopted from the Homeless Animal Rescue Team and are no longer able to care for your adopted feline, please contact H.A.R.T. at (805) 927-7377 to arrange for the return of your cat to our shelter.

 Our ability to take in animals is dependent on our resources, current feline population, and rate of adoptions. We are always happy to add your cat or kittens to our wait list, or refer you to additional rescue organizations until space becomes available.
Relinquishment Request Form
PDF
Please complete this form and email to warmhearts@slohart.org or walk-in/mail to 2638 Main St., Cambria CA 93428
You may also call 805-927-7377 to complete a relinquishment request over the phone. We currently have a wait-list. Priority will be  given to San Luis Obispo County residents. Call for more information.
Spay & Neuter - Save Lives
The Homeless Animal Rescue Team has a mission to reduce feline overpopulation with an active spay/neuter program for felines. We also have an active trap-neuter-return-manage (TNRM) program for feral cats. Please join us by spaying/neutering your pets, local strays, and contacting shelters to learn more about their local TNR / TNRM programs for feral cats.

Please contact H.A.R.T for information on low-cost vet clinics, help with trapping, or to borrow a trap from H.A.R.T. Both stray and feral cats and kittens need to be spayed/neutered. Stray cats have been socialized with humans and have the possibility of being adopted once altered, whereas feral cats have not been socialized and will do best being released back out once being altered. Check out alleycat.org for more information on the difference between stray and feral cats.