The Jackson Galaxy Cat Pawsitive Program
Making a difference for HART cats !
Developed by Jackson Galaxy and a team of animal behavior experts, The Jackson Galaxy Project's Cat Pawsitive is a mojo-enhancing, positive-reinforcement clicker training initiative that enriches day-to-day life for cats in shelters, builds new skills for cats as well as shelter staff and volunteers, promotes the human-cat bond, and helps improve adoptability.

By utilizing positive, reward-based Cat Pawsitive training, HART staff and volunteers are reducing the stresses that might keep a cat from connecting with an adopter. With clicker training that positively reinforces good behaviors, a shy cat can learn to feel comfortable coming up to the front of her cage to meet a potential pet parent, a feisty cat can learn to play nice, and an outgoing kitty can even learn to give an endearing "high five" to his visitors to seal an adoption deal. Cats gain confidence and get mental and physical stimulation through their clicker training sessions, and soon they are building connections with staff, volunteers and potential adopters. 
The Jackson Galaxy Cat Pawsitive Training Team had a lot of fun with Phil (the mini bobcat) on National High Five Day, capturing some video of his amazing high-fives! Phil was enrolled in the Cat Pawsitive Training Program to help Phil learn more pawsitive interactions with both cats and people. Phil came to us from the streets with a broken tail, which needed to to be amputated. Once he healed and entered our main shelter, Phil started pretending he was a bobcat, and practicing his "bobcat moves" on any people or cats in his vicinity.

Now that Phil is learning new "moves" through his Cat Pawsitive training, he feels much less inclined to show off his wildcat side. He has been a joy to work with for all of us. We were excited to enter him in the #felinehighfive2022 Contest through Greater Good Charities. We won 3rd Place out of over a thousand entries. Thank you to the HART Cat Pawsitive Training Team, The Jackson Galaxy Project, and Petco Love!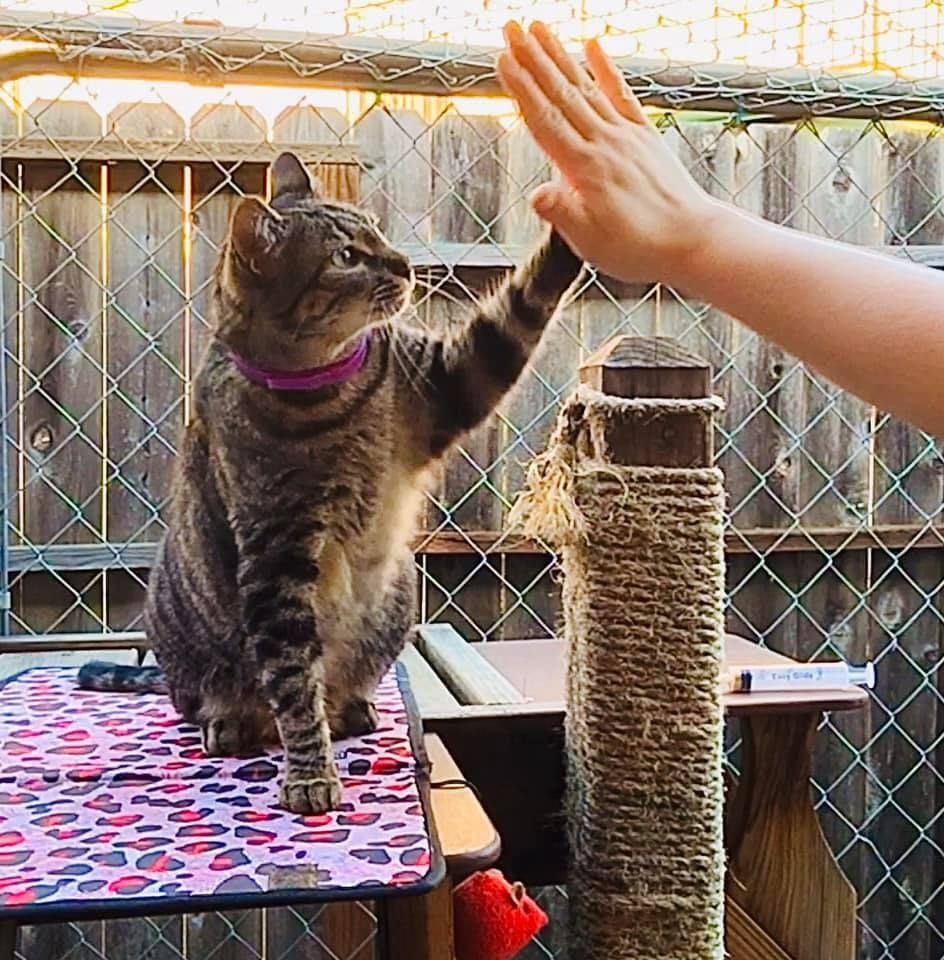 Cat Pawsitive Program has begun for Winter 2022 Semester!
This Program is sponsored by the Jackson Galaxy Project & Greater Good Charities in partnership with Petco LOVE to help shelter cats find their Mojo so they will find their purrrfect furrrever homes.

This is the second time HART has participated in the Cat Pawsitive Program. Unfortunately the first time was started just before Covid forced us to send all of our cats to foster care. But several of the cats that did start the program were successfully adopted. With this program the cats will be learning new skills & behaviors that will help them bring out their best Mojo & become more adoptable. For the shy or scared kitties this will mean they will gain confidence & be less fearful. While for the more outgoing kitties this will give them something to do to keep them engaged & be able to get rid of some of their pent-up energy.

For the past 2 weeks CP (Cat Pawsitive) Team Members have been working on the first of 3 training methods – Capturing. In the next week or so they will begin working on & honing their training skills using the second method – Targeting. Once everyone has mastered this skill, we will move onto Luring as the final training method. Currently we have 10 team members, 9 of which are working at the shelter the 10th & newest member is a foster who has agreed to continue training her foster, Phil. She will resume his training once she has covered the online training material. Please follow our kitties & trainers on Facebook or Instagram as they progress through their training.

There are still a few items that we would like to have to aid in our training. Checkout our Amazon wish lists below. We need: tripods to hold smartphones while videoing training sessions, laser lights to be used either as a play reward or for targeting or luring. We can always use lickable treats such as Churu or Squeeze Uu, Adjustable Metal Shoehorns to be used for giving lickable treats to the shyer kitties so we can earn their trust from a distance.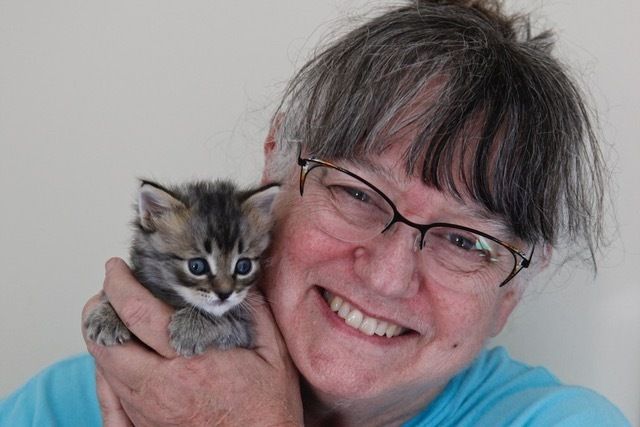 Evelyn Zanella
Team Leader
Since retirement, Evelyn's devotion to HART's cats & kittens is indisputable as she continues dedicating her time and energy by volunteering. In addition to fostering our most vulnerable cats in need, she has taken on the role of Team Leader for Cat Pawsitive class of 2022! HART cannot overstate its appreciation for her tireless dedication and for her expertise that provides quality care for our cats and kittens.