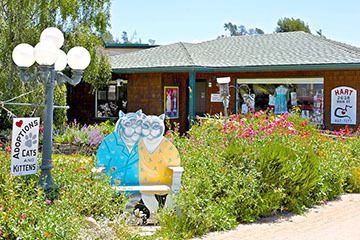 Animal Care Manager
The Homeless Animal Rescue Team (HART) is a 501(c)(3) which operates a shelter at 2638 Main Street, Cambria CA for orphan cats and kittens in our community. HART finds good homes for them through adoption services and by managing two small local colonies of feral cats through a trap/spay/neuter/ release-and-maintain program. 
 
DESCRIPTION OF POSITION: The Animal Care Manager carries out and oversees health-related tasks to ensure the well-being of animals in HART's shelter and with our fosters.  For example, the manager evaluates all animals for intake and adoption; assesses the health of our animals and determines when veterinary visits are necessary and coordinates with veterinarians; vaccinates and de-worms; establishes protocols for cleaning to maintain a sanitary environment; ensures that proper medications are administered; trains staff and volunteers involved in feeding, cleaning, and medication; and maintains adequate medical supplies.  Reporting to the board of directors, you will provide a monthly assessment of accomplishments and activities and tell the board what is needed for proper care.  Keeping medical records up to date in the Animal Shelter Management system (ASM) is required.

The Animal Care Manager assists the Foster Manager with veterinary/medical/health matters.   The Animal Care Manager is supported by the Shelter Manager in such duties as ordering supplies, scheduling and supervising staff and volunteers, and monitoring conditions in the shelter.

QUALIFICATIONS: You must be able to handle cats in a humane manner; be committed to animal welfare and fear-free shelter protocols; have at least two years' experience working in an animal shelter or other pet-rescue operation or veterinary field; be able to identify signs of abnormal feline behavior, illness, disease and injury; be collegial, organized and motivated; communicate well;  cooperate with HART's board of directors, HART's other employees, volunteers, and colleagues from other similar organizations; and have a "team-oriented" approach to your work ethic. Management experience and RVT license or equivalent veterinary experience are desirable.

Possess basic knowledge of cats: domestic breeds, behavior, appropriate care and housing, common health problems, disease symptoms, and handling techniques.

Familiarity with Animal Shelter Manager (ASM) software desired but not required.

SCHEDULE: 40 hours per week with flexibility in scheduling (e.g., some remote work for record-keeping; balancing hours allowed, depending on medical needs of animals). Scheduling will be discussed during interviews.

PHYSICAL REQUIREMENTS: Performing the duties of this job will entail standing, moving, twisting, bending, kneeling and/or crouching, possibly frequently. The employee must be able consistently to lift an animal or stationary object (often combined) of 50 pounds or less and lift and carry 50 pounds for 100 feet; stand for long periods; reach, stoop, lift and perform other moderately strenuous actions; and handle and appropriately and humanely restrain a variety of cats.
WORKING ENVIRONMENT: Possible exposure to infectious organisms, zoonotic diseases, animal waste, hazardous chemical materials requiring OSHA Material Safety Data sheets, sharp objects, and potentially fractious animals and/or hostile people. Sanitary PPE and other supplies will be provided.

This job description outlines qualifications and most requirements specific to this position. The job description might change reasonably over time.  Employment as Animal Care Manager by Homeless Animal Rescue Team (HART) is at-will and is for no set term; either you or HART may terminate the employment relationship at any time. By applying, you indicate that you understand what is required by the position, that you possess the necessary skills to carry out its duties, that you have a commitment to perform the duties as outlined, and that you will accept reasonable changes to the job as it evolves.

Apply via Indeed or contact HART
to submit your resume to HART.
Job Type: Full-time, with some flexibility (e.g., some remote work, like entering records into ASM)
Pay: Commensurate with median salary for veterinary technicians in California (about $20.00 per hour)
​

HART is an equal opportunity employer and strives to comply with all applicable laws prohibiting discrimination in the workplace. HART is committed to providing a work environment free of sexual or any form of unlawful harassment or discrimination. HART policy prohibits unlawful discrimination, abridgment or harassment based on race, color, age (over 40), sex, gender, gender identity, gender expression, sexual orientation, national social or ethnic origin, ancestry, citizenship, religion (including, but not limited to, all aspects of religious beliefs, observance or practice, religious dress and grooming practices), marital status, family or parental status, registered domestic partner status, civil union, military and veteran status, sex (including, but not limited to, pregnancy, childbirth, and breastfeeding and related conditions), physical or mental disability, medical condition, genetic information, or any other category protected by applicable federal, state, or local law, or, any other legally protected status. All such discrimination is unlawful and all persons involved in the operations of HART are prohibited from engaging in this type of conduct. It is our intention that all applicants be given equal opportunity and that selection decisions are based on job-related factors. It also prohibits unlawful discrimination based on the perception that anyone has any of those characteristics or is associated with a person who has or is perceived as having any of those characteristics. All such discrimination is unlawful. Equal employment opportunity will be extended to all persons in all aspects of the employer-employee relationship, including recruitment, hiring, upgrading, training, promotion, transfer, compensation, benefits, leaves of absence, discipline, layoff, recall, termination and other terms and conditions of employment.